How to Enter Pending Stage Goals on Report Card See How Many New Direct Sellers Have Each Month in Relation to their Goal
You Can Now See the Goals for New Direct Sale Funnel
in the Report Card!
To get to the REPORT CARD - go to PENDINGS on the left navigation, to TOOLS, then to 3 Month Analysis.
When your sort your Report Card in ShareBuilder CRM to New Direct, and choose to look at the current month you will now not only see how many New Direct Pendings were started and how many touched each stage of the Sale Funnel, you can see how that stacks up against the goal! Here is how to enter the goals for your sales people. They will show up once you save them in the AEs profile. Note: Only a manager or someone with permission to add/edit users can add the goals.
Here's how:
1. Go to MORE tab, to Our Team, to Add/Edit Team Members. Bring up your first AE by name. Go to the GOALS tab.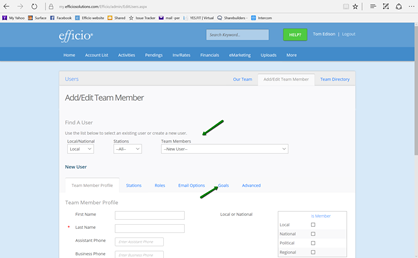 2. Enter the monthly New Direct (or other budget category you might choose to measure) goal for each stage of the Sales Funnel. Be sure to Save. You can continue changing AEs from the drop down on this page once the goals are added and saved.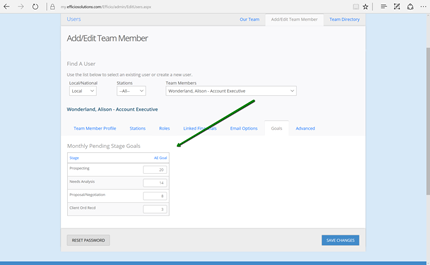 Note: you won't see the grid to enter the goals if you don't bring up an AE. They will not show up for Add New AE, for example.
3. You will now see the goals reflected on the Report Card. Go to PENDINGS Tab, to TOOLS, and to REPORT CARD.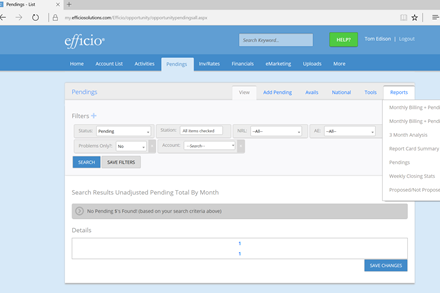 4. When you filter on the Time Period (Current Month if wanting to see progress) and the Budget Category (New Direct or any other Budget category which you are measuring and for which you put in goals), you will see the number of actual pendings that hit that Stage of the Sales Funnel, out of the Goal. For example David has added 20 pendings (based on the criteria you chose above) that touched the Prospecting Stage. He had 13 touch the Needs Analysis Stage, based on a goal of 15. He had three touch the Proposal/Negotiation Stage, out of a Goal of ten. And he didn't get any orders of the selected budget category during this time frame.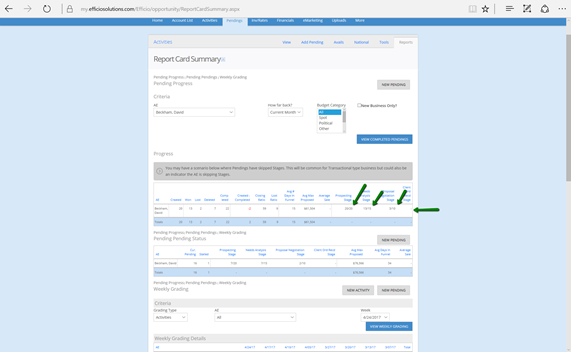 Did this answer your question?