Below is a generation guide for setting up and exporting inventory data from OSI Traffic.
Pulling a Sharebuilder historical skim by Calendar in OSi traffic
To be pulled once a month for the previous month billed.
In the Billing component of OSI, click on the Receivables tab at the top and select $harebuilder Export.
For Start date, select the 1st Monday of the Calendar month.
Number of Weeks is to be 1, which really means 1 month.
Select all Custom Groups, All Type 2's, All Sections.
Break types:

Include all breaktypes that: Have Sellable Inventory that is sold in the usually way, not via things such as packages, sponsorship, paid programming, etc…

Group Type is 'by Calendar Month'.
For the exclude options, the only one valid for the Calendar report is the 3rd one.
Output files should be valid folders selected from the C$ on 'Client' ( ) drive.
Email the file 'call letter_$harebuilderSkim.txt' that has data to Sharebuilder.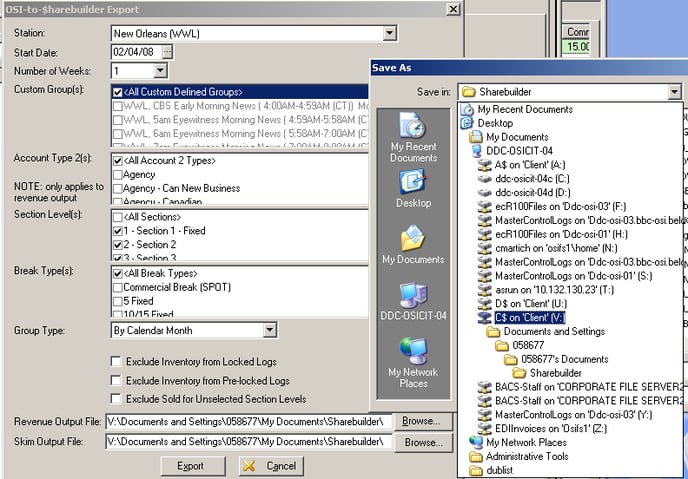 Please check 'Exclude Sold for Unselected Section Levels' and exclude all zero dollar spots.