What you see today is a very basic introduction to our plan to move the most popular features of the Forecasting tab in ShareBuilder Desktop to our web platform.
Please note - This initial release is read-only; you are not able to edit any of the data displayed.
Chart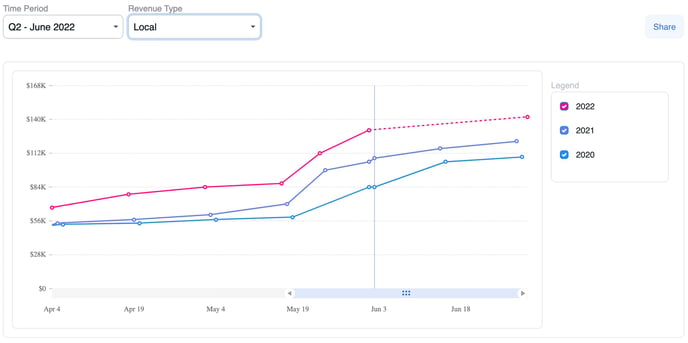 The default setting is the current month. Click on the Time Period and Revenue Type dropdowns to display another month or quarter's chart.
The chart displays how much money was on the books for the given month in the Time Period selector for the current year and 2 years prior (if available). It displays all data points provided by daily ownership group pacing updates or station pacing reports.
In this version you can view the raw booked dollars on any given date for the current year and two prior years.
The vertical blue line represents today's date.
Coming soon! Future releases will default to charting revenue as a percentage of the Final (if the month or quarter is in the past) or Pricing Target (if the month or quarter is current/future).
Time Period
Use the Time Period selector to view a particular month or quarter. Click on your desired selection to change the chart view. Use the slider in the dropdown to display more options.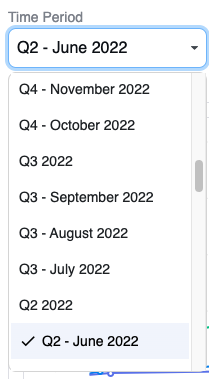 Example: The default setting is the current month. Click on any other value to display that month or quarter's chart.
Revenue Type
Use the Revenue Type selector to select the revenue type or combination of types you wish to view. Click on the text or checkboxes to combine revenue types. Click outside the box to refresh the view.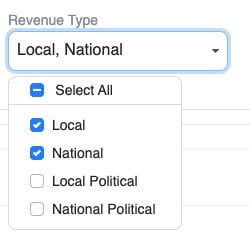 Example: The default setting is the first revenue type. Click on the boxes to combine Local and National into one view.
Window Selector
You can adjust the weeks you are viewing in two ways:
Select a new date range: The default date range is the current month + 2 months back. To see a different 3-month period, drag the blue bar to the left or right as needed.

Expand the number of weeks viewed: To view as many as 6 months' worth of booked revenue for any given month or quarter, click on the arrows in the window selector to add or subtract weeks.

Legend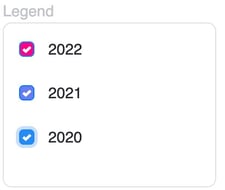 Check or uncheck the boxes to choose the years you wish to display on the chart.