Set Your Default Mail App Windows 10 Instructions.
Email links throughout ShareBuilder CRM open the default email application on your computer. Sometimes the default mail app is not what you want to send an email with. These quick steps below will guide you to change your default mail app.
Click on the Start Menu button bottom-left.

Now click on the Settings menu item.

Then click the System icon.

Now click on the Default apps menu item.

Look for the Email heading.

Click on the current default email client just below the heading.

The Choose an app menu should now be in view.

Click on the email client you wish to make the default app.

Close the Settings window.

All done!
Additional Setup Needed for Gmail
If you want your default email to be Gmail, here is what you need to do:
In the Default Apps menu, select Chrome.

Open Chrome and navigate to the Gmail website. Make sure you log in if it doesn't automatically do so.

Click on the double diamond in the web address bar.

4. It will prompt you if you want Gmail to be the default for all email links. Select
Allow and click Done. You're all set to be able to email out of ShareBuilder CRM and into
Gmail!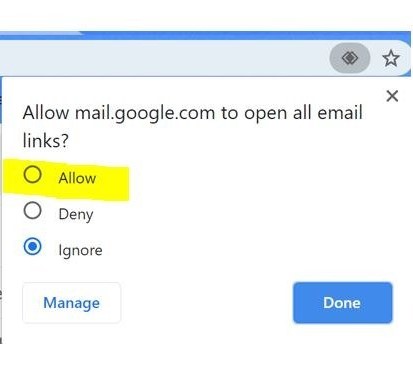 Edge uses your Windows default application to open mail to links. That means if you configure Windows to open Gmail in another browser, Edge will open that browser when you click the links. Unfortunately, we couldn't find a way to open Gmail automatically in Edge itself.
Remember, if you change or update your computer you may have to complete this process again.
.